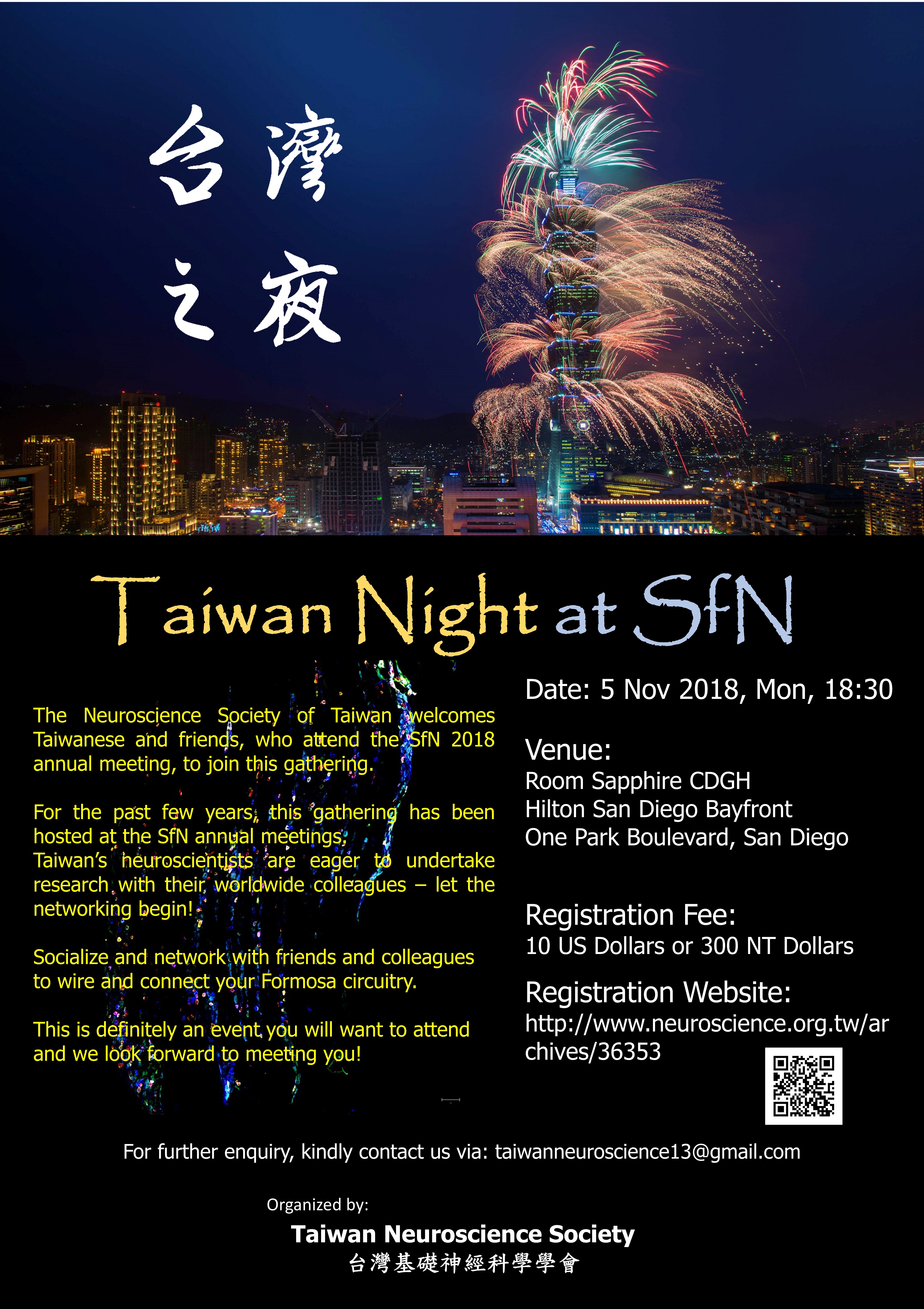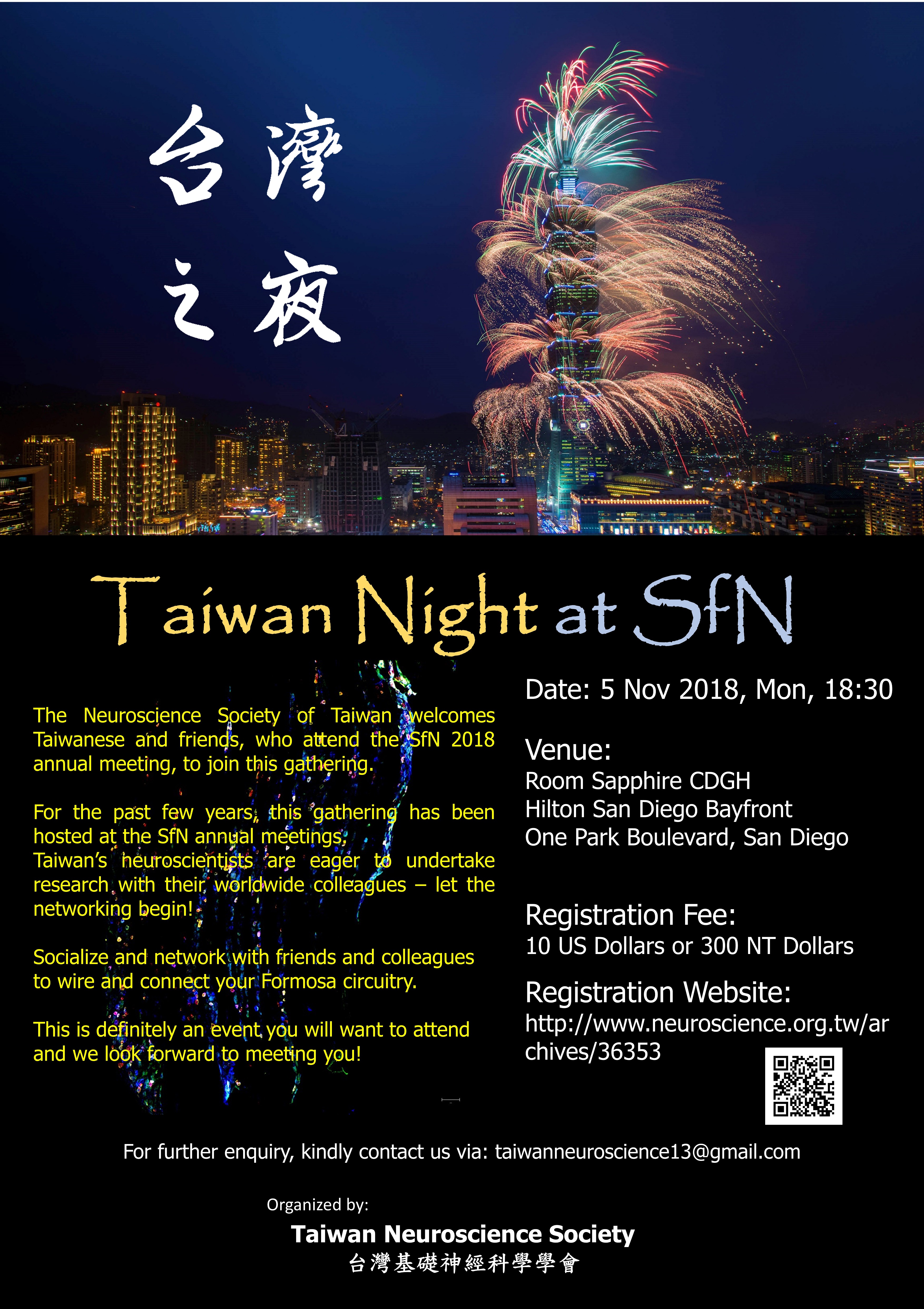 2018年美國神經科學學會年會 (SfN, Neuroscience 2018) 將於11月3日至11月7日於美國聖地亞哥舉行。此年會為全球規模最大的神經科學聚會,預計將有超過80個國家,30,000名以上的科學家與神經醫師參與。
為增進台灣與國際神經科學學者間資訊之交流,由《台灣基礎神經科學學會》主辦,經由SfN理事會的同意下,將於11月5日辦理「台灣之夜2018」,作爲2018年美國神經科學學會年會的子節目,相關資訊如下:
The 48th annual meeting of Society for Neuroscience (SfN), Neuroscience 2018, is the world's largest neuroscience conference for scientists and physicians devoted to understanding the brain and nervous system. It is expected more than 30,000 colleagues from >80 countries will participate in this year's conference, which will be held from 3-7 November 2018 at San Diego, CA, USA.
In conjunction with Neuroscience 2018, the Taiwan Neuroscience Society (TNS) will organize the "Taiwan Night 2018", a satellite event approved by the SfN committee, with the aim to provide a platform for neuroscientists from around the globe to collaborate and network with peers, and to celebrate the research achievement of fellow Taiwanese colleagues.
Please take note  that the online registration portal will be closed on 31 Oct 2018 (Wed), 13:00 (GMT +8:00). Don't worry, if you missed the online registration deadline due to your busy schedule, you may still register on-site on the day of the event. However, if the number of attendee exceeded the venue capacity, we would regrettably follow the first-come, first-serve basis. So, to avoid disappointment, do register ASAP!
The details of the gathering are as below:
活動時間/ Date & Time:6:30~9:30 pm, Mon, 5 Nov, 2018
活動地點/ Venue:Room Sapphire CDGH, Hilton San Diego Bayfront

地圖連結/Location Map
報名費用:10 US dollar/ 300 NT dollar
報名表: 
誠摯邀請您共襄盛舉!
We look forward to meeting you @ Taiwan Night 2018!
2018台灣之夜 Taiwan Night
主辦人: 黃怡萱 副研究員/ Chair: Dr Yi-Shuian Huang
協辦人: 陳易宏 教授/ Co-Chair: Professor Dr Yi-Hung Chen
台灣基礎神經科學學會/ Taiwan Neuroscience Society
理事長:邱麗珠  教授/ President: Professor Dr Lih-Chu Chiou
秘書長:陳易宏  教授/ Secretary-General: Professor Dr Yi-Hung Chen
秘書處聯絡人:李欣蓉/ 李鳴達/ Secretariat: Hsin-Jung Lee/ Ming Tatt Lee
電話/Telephone no:02-23414788/ 02-23123456 ext.88325
E-mail:[email protected]
---
繳費說明:
1. ATM轉帳 (ATM transfer, in Taiwan only)。
郵局 (代碼 700) 帳號0002154 0087690,務必於報名表填寫您的帳號後四碼 。For ATM transfer, kindly make the payment to account number 00021540087890 (Bank # 700, Chunghwa Post Office), please provide the last 4 digit of your account number in the application form, once you have completed the transfer.
2. 信用卡付款 (Credit card payment)
本學會委託歐付寶電子支付系統,接受本國銀行信用卡付款。使用者必須先註冊登錄成為歐付寶會員,請由學會網頁下方繳費中心前往繳費。
NST has appointed O'Pay as our credit card payment platform. User must apply to be an O'Pay member in order to complete the credit card (issued in Taiwan) payment. Kindly click on the link below for payment.
繳費連結
為確認用餐人數準備餐點, 繳費完成才算報名成功。In order to confirm the number of attendee (for restaurant reservation purpose), registration will be considered complete only when the payment is done.
當場報名(當場報名僅接受現金樂捐)。Cash payment on-site is acceptable only for donation.